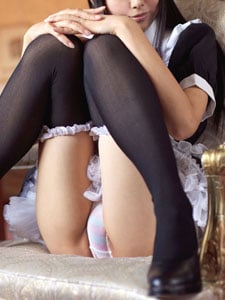 I have a little cunt in my basement that I keep locked up for those special occasions. She's a cock hungry little whore who's only good at cleaning house and sucking cock or pussy. I was sitting in my study wearing one of my favourite domme outfits watching my begging maid clean in her uniform.
She went about her work, bending over seductively hoping to catch my attention, and I generally ignored her. It's my place to give her attention and not hers to seek it. She was dusting some furniture when I decided it was time to give her a lesson. I told her that she was cleaning wrong and that she can't even fucking do that right.
I put my boot on the table and told her to lick. She was an obedient little cunt and licked my boots up and down. Her spit made my boots shine and I made her suck the heel like it was a cock. If my heel had been a real cock, then she would have been covered in cum because she was such a little whore.
I sat her up and grabbed her nipples from outside her maid's uniform. I twisted them hard until she finally winced in pain. Her pain made my pussy wet, and I knew her pussy was wet as well. She was a little cunt that needed to be fucked, so I bent her over the couch until her wet pussy was in full view. Ooooohhhhh her plump cunt looked so fucking hot! Hhhhmmmmm….
So I shoved a few fingers in her pussy and they slid in without effort. She was so wet and about to get so much wetter….MMMhhhhh. I put a few more fingers in, and she began to moan and soon my whole fist was inside her. Her pussy was filled with my fist, and she was screaming now in a mixture of pain and pleasure. Ooohhhh how her cries made my pussy tingle…mmmmhhh, ooooohhhhh….
I put the blindfolds on my begging maid so she wouldn't know what I was about to do next and made her sit on the couch. I got out the vibrator and made her squirm, but never let her cum. Again and again, I would let her get close only to stop right before she came. She begged me to let her finish but I was going to cum before she did.
I tortured her more by punishing her pussy and nipples even more. Her body was red by the time I finished and her arse was gaping from how many fingers I could fit in it. With her body bruised, it was my turn for pleasure. I spread my legs on the couch and grabbed her head, shoving it between my legs. Aaaahhhhh, mmmmhhhh…Her tongue explored every inch of my pussy and sent pleasure radiating through me. Mmmhhh don't stop! I ordered…Hhhmmm don't stop BITCH! Mmmmhhh…She hit my clit just right OH YEAH, hhhmmm YES you filthy little cunt! Hhhmmmm, ahhhhh and I exploded in orgasm, drenching her face in my hot pussy juices.
I pressed her against me even harder until I was practically suffocating her with my sex. Soon her fingers were inside me as well…AAAHHH FUCK BITCH mmmmhhhh, hhhmmmm OH FUCK, OH FUCK yyyeessss!!…as I felt another orgasm rip through my body. When I was finished, I slapped her face and sent this begging maid back to her basement dungeon to sit with my other slaves until needed again.
Talk with obedient bitches now and get your rocks off to these pathetic subs that are just desperate to please!