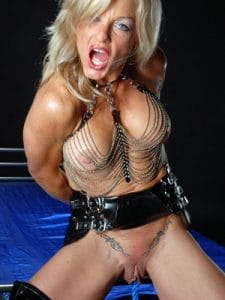 Looking for a way to control your sub or slaves orgasms with a device that locks away their goods? Chastity belts are one of the best ways to practice orgasm control and really hold power over your submissive. Many players in the BDSM practice chastity and for good reason.
We all know that sex makes the world go round, but what happens when you're denied from releasing yourself? Do you stay in control of your body or do you act erratically since you're being prohibited from doing the one thing that releases all tension? It could really go either way but chastity belt BDSM can be very restricting. The keyholder or dominant party's full purpose with the chastity belts is to control all sexual activities. This includes both sexual intercourse and oral sex. This device can really make or break anyone since it really prevents one from engaging in anything that uses their genitals.
Some mistresses and doms will make their subs wear these chastity belts for days and even weeks at a time to break them and have full control over their mind and body. Of course, all players are willing participants, but that doesn't make the temptation any lesser. Some subs are denied having any sexual contact for months depending on how much they stick to the rules that their keyholder has set in place. With chastity belt BDSM, the dominant party is usually called the keyholder because he or she holds the key to the device. If the key gets lost, then the sub will just have to get used to being locked up for eternity.
Ready for your very own chastity belt experience? Zola has everything you need in order to make all your BDSM fantasies come true. She's bitchy, controlling, and won't take no for an answer. She's waiting for you to CONTACT HER so she can finally break you in.