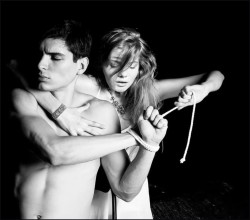 Many couples enjoy spicing up their sex lives with a little bedroom Domination sex chat. Ranging from very mild to more advanced play. This often evolves over time as they push each other's limits to involve more activities.
It does not have to be a Mistress/Master slave scenario. There are many other role plays that can be incorporated into the session where one would be in a position of power.
Dressing up in the appropriate attire for the role play makes it far more exciting. Student/College lecturer, policeman or woman/criminal, boss/employee are a few examples of possible roleplays.
Complete trust is required as well as plenty of communication and honesty and for the most part no special equipment is required as most items can be adapted from what can be found around the house
A safeword should always be used and respected.
It could be as simple and one party blindfolding the other. Sensory deprivation can add a nice edge to sexual activities. Or just agreeing to do everything that the dominant asks for. Perhaps with the element of punishment for failing to perform the task to the standard expected.
When the male is the dominant partner. Having sex with the female either orally or with penetration but making the rule that she must not make a sound. If she does then she is punished, perhaps with a spanking.
The female in control could instruct the male on pleasing her, especially orally. The male perhaps not being allowed to speak just follow instructions. Again, with punishments for either speaking or failing to do as requested.
Bondage is something that most couples will try out, being rendered immobile can be very arousing as long at the person restrained is able to at any point be released.
Having someone tied up and blindfolded and vulnerable gives much power to the other person
and as long as they do not abuse that power and limits have been agreed there are many ways to bring about a variety of sensations and feelings. You could also go a step further and prevent him or her from hearing using ear plugs.
Domination sex chat allows people to test their limits with an experienced dominatrix. Or if you want to take charge. Domination sex chat allows you to control a more than willing submissive slut to play with.
Teasing, especially with oral sex, keeping the person tied up on the edge of an orgasm for as long as possible is probably one of the most obvious power trips.
Sensation play, touching, stroking, using items such as ice, feathers, small brushes, sandpaper to subject him or her to a variety of sensations. You could also drizzle honey and lick it off.
Think 9 ½ weeks with the ice cube. Letting it drip and run down the body, over the nipples then down over their genitals.
The oval shaped ice cubes can be put inside the vagina.
Moving things up a notch you could introduce candle wax but unless you have experimented with wax before then start by holding it up high and dripping it on non-sexual parts such as down the stomach. If that is well received, then it can be extended to other parts. Alternating wax and ice works well.
Pegs can be used on the nipples, the cock and balls of a male, pussy lips and clitoris of a female and tugged at gently.
It is worth noting that it hurts more when they are taken off than put on especially with the nipples.
The same person could stay in control or the roles could be reversed. It could be the foreplay to sex or include sex. Have fun with domination sex chat but above all remember the rules: safe, sane and consensual.