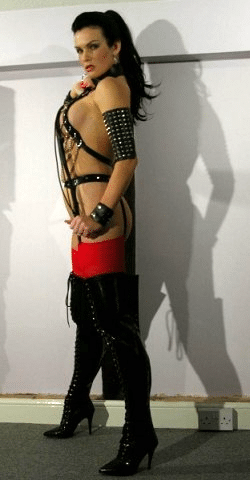 Welcome to a world of dark and dangerous BDSM. I'll be Your Mistress. I am the Queen of domination phone sex, it's my special kink. Instructing my slave over the phone really turns me on. Having full control simply from my commanding voice is totally empowering. Here is an encounter from one of my recent trampling sessions.
I sat on the edge of the luxurious leather armchair, my slave laying on floor at my feet, fully clothed in his work suit. I wore only a short, tight, black, see through dress and a my thigh high, lace up, PVC boots with a seven-inch heel.
Mistress tramples all over her slave…
I studied him quietly, stroking one heel against his face. His breathing was steady, excited, but in control. I couldn't have that. I was the only one in control here, this slave was merely a plaything to me. A subservient, there only for my pleasure.
I stood over him, my booted legs either side of his head. He groaned at the sight of my beautiful, bare cunt above him. I squatted briefly, bringing my cunt tantalisingly close to his face. He stretched his neck upwards, as if to taste me and I crushed his nipple between my fingers.
'You taste my cunt if and when I say you can slave' I said 'men like you aren't worthy of my cunt. Women like me walk all over pathetic men like you!'
I stood straight and stepped onto his torso. He let out a heaving breath as my full weight settled on his midsection.
I walked the length of his body, before turning around and making my way back up. Just before I reached his ribcage, I gave a little jump, forcing his breath from him. He groaned loudly and I laughed. I placed the toe of one boot against his face, pushing his head into the floor.
I held him there a while before stepping off. Strutting around his suited form I lashed out sporadically, kicking him up and down his sides. Every time my boot connected he grunted and moaned and my pussy clenched.
I paused between his thighs
Lifting one foot I pressed it against his flaccid cock, my heel crushing his balls. I smiled sadistically as I applied more and more pressure, watching him writhe and moan in agony. I gave him a swift kick to the balls and he instinctively tried to tuck himself into a ball.
Like a little worm, he lay there and I could tell he wanted me to stop! Never, even my slaves using domination phone sex know it ends when I say it ends!
I kicked his inner thigh 'Straighten your fucking legs!!' I yelled 'I didn't tell you you could move slave' tears trickled down his face as he returned to his original position. I stepped onto his stomach, trampling every inch of his torso.
When I was satisfied that he'd be covered with the mark of my heels for days to come I stepped off, placing a foot either side of his head.
He turned his face to the side, pressing his face against the PVC, stroking his tongue up the length of my heel. I kicked his face away. 'You don't follow instruction very well do you slave?' I asked and he whimpered.
I got down on my knees, squatting over his face. 'See if you can listen now you pathetic little worm' I said 'I'm going to play with my tight, sweet little cunt and you…you are going to lick my arse until I cum. Do you understand?'
'Yes Mistress' he said nodding eagerly.
I lowered my arse to his mouth
Smothering his face between my cheeks. His tongue was flat against me, mmmmmm stroking over the sensitive tight hole as I teased and caressed my throbbing, swollen clit.
I ground against his face harder, my orgasm building deep from within. 'Fuck me' I demanded 'Fuck my arse with your tongue you dirty fucker'. He stiffened his tongue, pressing it firmly against my tight hole until slowly it slid inside.
Ohhh fuck yes, I liked that. Ohhhhhh ohhhhh God yes, I fucked my arse against his tongue, riding his face hard whilst I strummed my aching clit. Ohhhhhhh Mmmmmm I buried my fingers in my cunt as I came. My arse clenched around his tongue, my pussy clamped my fingers, my orgasm racing through me.
'Ohh fuck yes, I'm cumming. I'm cumming with your tongue buried in my arse, you filthy little shit.' I cried out, my orgasm racing through me with such speed and force that my whole body shook.
I lifted my arse from his face when I was done, gave him a swift kick in the shoulder and told him to leave. Perhaps next time he'll be better behaved and I might just allow him a taste of my sweet cunt too.
Assertive dominant women who'll walk all over you, you're only a click away from the kinkiest of extreme domination phone sex chat. Nothing is taboo, all kinks and fetishes for all fantasy roleplay. We promote the supreme of live 121 chat here at DomPhoneSex. If you're brave enough and think you can handle it, then browse to find Your Mistress, pick up the phone and make that call. Good luck, you're sure to need it.