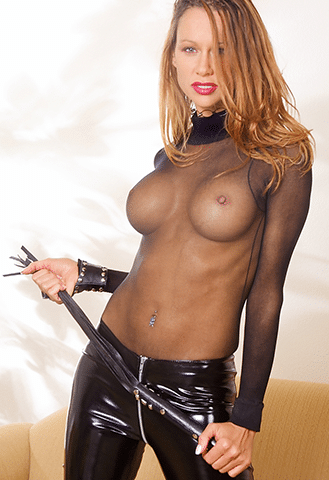 A humiliation phone sex confession from a sexy Dominatrix who forces her sissy slave to clean his mess and drink her hot piss. If you're an obedient slave call the mistress and try out some humiliation phone sex.
Most subs that enter my dungeon think they know what's coming.
They don't. I am a Goddess in comparison to some of these little worms. I'm a natural born Dominatrix. An exquisite, statuesque, stunning, sexy, strong woman that deserves respect, worship and obedience, always.
I'll never forget this one sissy, he had the smallest cock I've ever seen! I outright laughed when he first showed it to me in my dungeon 'You think you can please a women like me with a cock like that!?' I guffawed 'Pathetic.'
'You call yourself a man!? With that ridiculous excuse for a cock!? No you're no man, not here, you're a sissy. Mistress's pretty little sissy. Strip for me.' I ordered 'Put the pretty outfit on your Mistress has chosen for you.'
It was a white, sheer, babydoll style cami top with matching panties, over the knee socks and heels. I watched as he dressed for me and said 'In fact, leave the panties off for now. I want to cum.'
I lay on my back, spread my long, sexy legs wide and ordered the little sissy to fuck me.
Tilly came to me, eyes lowered. 'That's right' I said 'you should be ashamed, ashamed of that pathetic little cock. I know you won't be able to make me cum with that pathetic little cock, but it will amuse me to see you try. Fuck me'
The ridiculously small hard on slipped inside my moist pussy with such ease I laughed. 'I can't even feel you. I said fuck me!!' that sissy tried as he could to make me cum, thrusting, grinding, but nothing worked.
Finally I took pity, I sucked two fingers into my mouth, lubricating them. I reached around between his arse cheeks, pressed hard against his tight little hole and whispered in his ear 'Cum for me pretty little girl, fill your Mistress with cum from your tiny cock, mmmmmm I want to watch you eat it from me with that pretty mouth.'
Before you find out what happened to this sissy, pissy slave the Dominatrix wants you to try her humiliation phone sex experience. You'll obey every command or be punished and forced to fulfil her degrading fantasies.
Ohhhhh He cried out as he came, so hard, yet still I barely felt a twitch. He collapsed on top of me and I cracked him hard on the arse with my open hand 'On your knees bitch!' I yelled 'firstly you will thank me for allowing you to cum in my pussy.'
He clambered to his knees and replied 'Thank you Mistress'. 'Now' I said 'Clean me. Suck and lick every drop of your cum from my beautiful pussy and make me cum.'
He set about the task with vigour, sucking and licking every inch of me,
mmmmmm right down to my arse hole. 'Mmmmmm good girl' I murmured stroking his head 'such a sexy, pretty mouth. Suck me, I want to cum in that mouth.'
Mmmmmm he sucked on my clit steadily and I came, wave after strong wave of orgasm coursing through my body. Mmmmmmm delicious cum filling his sissy mouth and coating his face.
When I'd finished, he sat back on his haunches, looking a tad too smug for my liking. 'You like the taste of Mistress's cum?' I asked and he replied 'Mmmmm yes Mistress, very much.'
'I wonder…' I pondered out loud 'If you'll enjoy my piss as much?'
His eyes widened half panicked, half excited. It didn't matter to me which he felt more, he was going to drink my piss whether he liked it or not.
'Get your mouth back down there' I ordered, quietly and firmly 'get your lips around me, every drop you spill will earn you 5 lashes of my whip.'
He placed his mouth against me, sucking gently at my piss hole. I told him 'Look at me. I want your eyes on me while you drink my piss.' I relaxed and began filling his mouth with my warm piss.
He sucked and swallowed, keeping his eyes on mine the whole time
knowing who owned his sissy arse. There wasn't much, just enough so that he could feel me running down his throat and he didn't spill a drop.
I ran my fingers through his hair 'Mmmmmm good girl, Mistress is very pleased with you. Now, go and clean your cum covered little cock and your pissy breath and get changed. Oh and the next time you step in here, make sure you're wearing something pink and frilly.' I laughed out loud as he left the room.
Have you been a bad boy? Confess all to the Domme and suffer humiliation phone sex. Disobedience isn't tolerated. Call the cruel, unforgiving Dominatrix now!