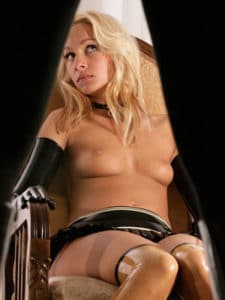 The last time my Mistress and I had a special encounter, my bottom was red and my pussy was sore for days. Being a lesbian sex slave has always been my passion and purpose in life. I've always known that I would offer my body to a sensual dominant woman who would know how to put me in my place and make me crave her inner being. I promised myself once I found my BDSM match, that I would do everything in my power to please her.
Whenever Mistress calls, I always come running. So last time when she told me to meet her at her sex dungeon, I quickly put on my slutty open leather bodysuit which exposed my puffy nipples and sweet cunt. Once I made it to the dungeon, I slightly knocked on the door and was greeted by my gorgeous owner who was wearing nothing but the finest. She had on thigh high leather boots with a hot red catsuit which seductively hugged her curves. My pussy began dripping as I started craving her body. She could tell that I was mesmerised by her stellar figure, so she cracked her whip to break me from my trance and bring me back to reality.
"I see my favourite little pet is ready to play," she said in a seductive tone.
I nodded my head in agreement and followed her into the dark wet dungeon. Every time she looked back at me, I couldn't help but feel that she was staring deep into my soul. It was as if she could sense how deep my devotion was for her without me even uttering a word. She grinned at me as we stopped in front of her throne.
"Assume the position kitty and show your Mistress just how much you've been craving her," she said as she sat in her special chair.
With those words I quickly began kissing each one of her perfect toes which were exposed. I could tell she was enjoying what I was doing as sweet moans began to escape from her mouth as she gripped her chair. Dipping my tongue in between each one of her toes made her gasp as she began rubbing her hot pussy through her catsuit.
Not being able to resist any longer, I begged to taste her sweet nectar. "Mistress may I please have a taste of your golden treasure?" I asked.
Without hesitation, she placed a collar around my neck, and pulled me towards a bed in the corner of the room. Placing a leash on my collar, she guided me towards her body as she laid on the bed unzipping part of her catsuit, showing her pussy.
As she licked her lips, she pushed my head towards her hot spot, telling me with her body language what to do. Without another passing moment, I slipped my tongue inside her and twirled it around making her moan out in ecstasy. With her hands still on the leather leash, she pulled me closer to her making me tongue fuck her royal pussy. I loved how sweet she tasted and looked forward to her exploding in my mouth. After sucking on her clit for a few minutes, I could tell she was ready to climax, so I licked her faster as she began gripping the bed sheets and staring down at me. Once she was ready to sprinkle her royal juice, I opened my mouth more and greatly accepted her offering.
I love every moment of being a lesbian sex slave. Do you have a confession or a sexy story you'd like to share with me? Text or phone ME now for domination phone sex. I hope to hear from you soon so we can have our own BDSM fun.