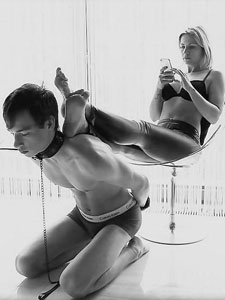 Men have always been annoying little playthings for me, so it was only natural that I'd eventually keep a stable of man slaves for my own sexual needs. These little cunts don't deserve to see the light of day, so they stay locked in my basement until I need to be serviced.
My favourite little gimp has a cock that just begs to be sucked. I get as much pleasure out of it has he does. I strap him down so he can't move and cover his face in a mask to keep him quiet. His cock was already hard, so I slapped it a few times to make sure he understood I'm the boss.
I had shaved his cock area bald, and I licked the tip so he could begin with a hint of pleasure. I could hear his muffled moans as I swallowed him to his balls. It reached the back of my throat, but I didn't gag. I never gag. With his cock still in my mouth, I slapped his balls hard. He was such a stupid little pig to think he was going to have all the pleasure. There is no pleasure without pain for these man slaves.
I stood between his legs with his cock in my hand and slowly stroked him. There was a drip of pre-cum on the tip, and I lapped up its salty sweetness. Hhhhmmmm his shaft felt so good in my mouth and I greedily sucked him to near completion, but stopped just short, squeezing his cock hard.
He body tensed at the pain and the missed pleasure, but I didn't care. I put my pussy in his face and unzipped the hole covering his mouth. His tongue came out, and I shoved my cunt into his face. His nose was deep into my arse hole and my pussy covered his mouth. His tongue licked my pussy lips and inside my fuck hole, sending shivers down my spine. Oh yeah, hhhhmmmm right there, hhhhmmmm….
I bit my lip as the sensations were building inside for the ultimate release. I started to rub my pussy fiercely into his face, letting him catch a quick breath here and there. Mmmmhhh, aaaaahhhh, oh yeah, hhhhhhmmm. I felt a powerful serge until my whole body shook from the intensity of the most amazing orgasm – I came slow and hard….oooooohhh, mmmmmhhh, ahhhhhhh, what a fucking rush….
With my pussy still in his face, I grabbed his cock and began sucking hard. Oh hhhmmm my body was on fire and I just had to taste his cum. It wasn't long before I felt the hot rush of his juices enter my mouth. I let it drip down on his stomach as he doesn't deserve to have me swallow him.
I brought out my other slave and made him sit on the floor. I bent over with my pussy in his face letting him smell my sex. I got out my red riding crop and slapped his back, making him cry out. This little bitch didn't deserve to eat my pussy, so I just made him smell it. He begged for a taste, but I slapped his face instead.
With one of my man slaves beaten and the other exhausted, I put my crop in my mouth and revelled in my superiority. It was time for them to go back in the dungeon until I was ready to play again.
If you're in need of a Master to obey and submit to, we have so many who are ready for a desperate sub to dominate! Call our fierce Masters now and get ready to be tamed and bound!