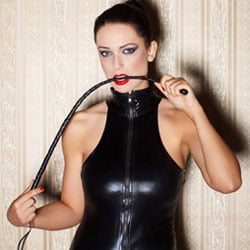 Experience total domination with live mistress phone chat. Kneel before her and prepare for what you deserve. Any attempt to resist the commands of your mistress will be severely punished with expert disciplinary techniques. Bellow is a confession on how a mistress punished her worthless sub slut for her pleasure.
"What's this?" I asked him, pointing at a sticky stain on the kitchen floor, 'WELL??'. He started mumbling some pathetic excuse, but I quickly shut him up.
"This is the third time this week that you have failed to perform your duties and I am going to teach you a lesson, now get yourself into the dungeon and over that whipping bench. You have picked a bad time to piss Me off. I'm going to make you fucking sorry".
He could feel the cold leather straps being secured tightly across his back and the top of his legs, pulling him tightly into the bench, immobilising him.
I ran My soft hand over his bare arse before giving each cheek a hard slap
leaving two perfect handprints which I stood back to admire. I do love the sight of My mark on a sub.
Trailing My fingernails over My prints I noticed his goose bumps, the anticipation was building… Without warning he once again felt the sting of My hand as I work it from one cheek to the other building up the speed, SMACK, SMACK, SMACK!!! until My arm began to ache.
"Well slave have you anything to say to your Mistress?"
The words 'sorry Mistress' fell from his mouth like meaningless drivel and I was not impressed nor convinced he meant it.
"I don't believe that you are sorry at all slave, let's see if we can change that shall we." I picked up a leather paddle and rested it on his arse cheek, knowing exactly what he was waiting for, his eyes closed bracing himself for that delicious sting.
I raised the paddle and held it there for a while, prolonging his agonising anticipation.
SMACK! I brung it down hard and he cried out, SMACK! Again, alternating it from one side to the other again and again and again until his arse glowed red.
He breathed a sigh of relief at the sound of My paddle being placed on the table. My hands began rubbing his hot arse, soothing him and for this he thanked Me.
He knew to thank Me for anything he receives be it pain or pleasure.
I returned to his arse with My next toy, a wooden paddle with a rubber pad, but this time I went straight for the kill, bringing it down hard on each cheek, WHACK! WHACK! Bruises appeared almost instantly and his begging, snivelling and apologies only made My cunt wetter. I gave him 5 more hits with the paddle before I grew bored of his whining.
Have you been a bad boy, and do you need to confess your sins to the mistress? Call or text now and give mistress phone chat a try and let the mistress punish you for being disobedient.
I strutted around to the front of the bench, grabbed a fistful of his hair and lifted his head up, giving Myself the pleasure of seeing the pain all over his face.
"Are we feeling sorry for our self there bitch?" I screamed at him
"I haven't even started yet" I walked away ignoring his pleas for mercy. My eyes glazed over the various paddles, whips, crops and canes around My dungeon. Feeling spoiled for choice I settled on a very soft leather whip which I trailed teasingly down his back and between his arse cheeks before raising My arm above My shoulder and landing it perfectly across his arse leaving 5 thick lines.
"It is looking very pretty back here" I told him. I lay My whip across your back, the heavy tails draped over his arse. He could tell by the weight alone that this was going to hurt, I decided to gag him, I love the sound of muffled screams and the sight of drool coating My dungeon floor.
I took another look in his eyes, getting off on the fear I saw there, I winked cheekily before picking up the whip.
"Come on baby, show Me what you've got" I teased as I brought the whip down harder. He began to writhe and fight against his restraints. There was no escape, he wouldn't know relief until I was sure he'd learnt his lesson.
I brought the whip down 4 more times before I managed to regain a little control over myself.
Sweat began to trickle down My cleavage and My breathing was heavy. I put the whip down to assess the damage I'd done. It was a work of art, colours from black to purple and a few broken parts of skin, I was proud of My work. I could feel the heat coming from his arse and fetched some ice cubes, placing them on his cheeks. The ice melted quickly against his burning skin, trickling down the crack of his arse.
I couldn't resist easing a melting cube inside his tight little arse hole, scissoring My fingers to stretch him.
After removing the gag, his tears and blubbering were starting to annoy Me, but I had one more toy that I wanted to use. I reached for the riding crop, the toy that turned Me on the most, just the sound of it swishing through the air is enough to make My clit twitch.
I teased him with it, resting the tip against his lips, forcing him to kiss the entire length before beating him with it! The harder he screamed the harder My cunt ached with the need to cum. I grabbed his face with my free hand and forced his mouth against my throbbing clit. 'You don't stop sucking until you taste the last drop of my cum you pathetic little shit!' I cried.
SMACK, SMACK, SMACK!!! 'Ohhhh ohhh ohhhhhh!'
every slap of the crop brought My orgasm rushing into his mouth, 'Yeah you suck My cunt while I beat your arse, yesssss ahhhhh ahhhh yes!' I cried as I came. It was all about MY pleasure, not his.
Feeling suitably convinced that he'd learned his lesson for that day I unstrapped him, ordered him to get dressed, get the fuck out of My dungeon and to go and clean the mess up that had started this punishment in the first place.
Get your very own adult punishment right here with mistress phone chat.