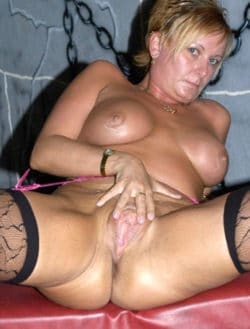 If you don't know me already I'm Mistress Blair. A bossy bitch and a master at mistress phone sex and kinky roleplay. I'm always looking for subs to play with. So if you want to be my new plaything give my mistress phone sex service a try, I hope you won't disappoint me.
Sissy Housemaid Domestic Servitude
I knew as soon as I laid eyes on him that he would make the perfect sub. He stood in the doorway, Pizza box in hand. He was a thin and shaky young man, no more than 22. "Will that be all miss?"
"No." I said firmly, eyeing him up and down. Judging by the growing bulge in his jeans I could tell he thought I was very attractive standing there in my PVC bustier with the red ribbon lacing up the front. My toes curled in my black fishnet stockings and thigh-high leather boots. Yes, he would be lovely.
"Do come in. I could really use some help with my sink. I think it's clogged." "Sure, I can have a look" He said meekly. I smiled. This would be easy. "First I'd like you to put something on for me." I giggled, picking up the frilly French maid uniform I had hanging nearby. His eyes widened but I could tell he wanted to please me. "Yes mam." He croaked.
"That's yes mistress to you, sub." I smiled
I love making men worthless. I push all the boundaries to see what I can make my sissy slaves do. If they don't abide by my rules then they'll get punished. Mistress phone sex is a good way to train my new recruits.
"You're going to be my new little housemaid from now on." He quickly slipped out of his clothes and I helped him slide the short black dress and white apron over his head. I fixed a little white hat to his head and saw him start to tremble as I pulled out a pair of black 6-inch patent leather stilettos. "Really? You don't want to put these on?" I laughed. "I'm afraid I'll trip." He stuttered. "All it takes is a little practice." I reassured him. "Here, walk for me." He did as I asked. Every time he sauntered by I made sure to give his erection a tug with my soft hand.
"I think you're ready to do that job for me now, but it's really not my sink that's clogged." I explained. "I had a male slave here earlier and I let him fuck me, so my pussy needs a good cleaning."
I laid back on the sofa and spread my legs wide
pulling aside my PVC thong and letting him see the wet sticky mess leaking out of my hole. He gasped as he knelt between my legs and began to lap at my warm moist lips. I shuddered, grabbing him by the hair and pushing myself onto his face as he licked up every drop. When he was finished he looked up at me and licked his lips. "Consider that your tip." I smiled.
If you'd like to be the next sissy slut to help me clean up, pick up your phone and try our mistress phone sex lines. I want you to text or call me now. If you do a good job you might even be rewarded with a dirty picture or two.