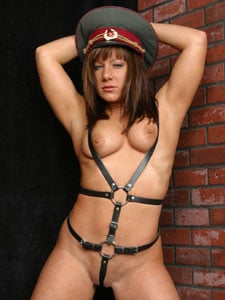 "What's this"? I ask you pointing at a sticky stain on the kitchen floor, well?? You start mumbling some pathetic excuse and I quickly shut you up, knowing you're soon-to-be a punished slave.
"This is the third time this week that you have failed to perform your duties and I am going to teach you a lesson, now get yourself into the dungeon and over that whipping bench. You have picked a bad time to piss Me off, I have not slept well and I am going to make you fucking sorry".
You feel the cold leather straps being secured tightly across your back and the top of your legs, pulling you tightly into the bench, immobilising you, the soon-to-be punished slave. I run My soft hand over your arse before giving each cheek a really hard slap leaving two perfect hand prints which I stand back and admire. Trailing my finger nails over My prints I notice your goose bumps. Then without warning you once again feel the sting of My hand as I work it from one cheek to the other building up the speed until My arm begins to ache.
"Well slave have you anything to say to your Mistress?" The words sorry Mistress fall out of your mouth like meaningless drivel and I am not impressed nor convinced that you mean it.
"I don't believe that you are sorry at all slave, let's see if we can change that shall we." I pick up a leather paddle and rest it on your right arse cheek, knowing that you are waiting for it, your eyes closed bracing yourself. I lift up the paddle and hold it there for a while, prolonging your agonising anticipation. SMACK! I bring it down hard and you cry out, SMACK! Again alternating it from one side to the other till your arse glows red.
You breathe a sigh of relief as you hear Me put the paddle down on the table and feel My hands rubbing your hot, punished slave arse, soothing you and for this you thank Me. I remind you to thank Me for anything that you receive be that pain or pleasure. I then return to the table to pick up My next implement, a wooden paddle with a rubber pad and once again you close your eyes and wait, but this time I go straight for the kill and immediately bring it down hard on each cheek. Bruises appear almost instantly and your begging and apologies begin to sound more sincere. I give you 5 more hits with the paddle before I get bored with it.
You feel a cool sensation on your arse as I sprinkle some talc, making it easier for me to run my hands all over it, not just to soothe but to build up your pain threshold for what was to come. I walk around to the front of the bench, grab a fistful of your hair and lift your head up, giving myself the pleasure of seeing the pain in your face.
"Are we feeling sorry for our self there bitch? I haven't even started yet" I walk away ignoring your pleads for mercy and once again return to the table, My eyes gazing over the various paddles, whips, crops and canes feeling spoiled for choice. I settle on a very soft leather whip which I trail teasingly down your back and between your arse cheeks before raising My arm above My shoulder and landing it perfectly across your arse leaving 5 thick lines.
"It is looking very pretty back here, and I am beginning to feel much better" You make the mistake of thinking that this is the end of your punishment, a mistake that I quickly correct for you with a whip that I affectionately call The Bitch, she is the most vicious whip that I own and has broken the skin on many occasions, today might be one of those times. I lay the bitch across your back, her heavy tails draped over your arse. You could tell by the weight alone that this was going to hurt. Being prepared for this and not wanting to get a headache from your screaming I decide to gag you. You love it you wimpy punished slave.
I take another look in your eyes, getting off on the fear that I can see and wink before picking up the bitch.
"Come on baby, show Me what you've got" are the words that you hear as I bring her down, actually much harder than I had intended making Me glad that I had decided to gag you. You begin to writhe around against the restraints that have you trapped in your torment and there was no escape, not until I was sure that you had learned your lesson.
I brought the bitch down 4 more times before I managed to regain a little control over myself. Sweat began to trickle down My cleavage and My breathing was heavy. I put the whip down to access the damage that I had done to you, colours ranging from black to purple and a few broken parts of skin, I was proud of My work. I could feel the heat coming from your arse and decided that you needed cooling down a little so fetched some ice cubes, placing them on your cheeks and above the cracks. The ice melted quickly against your burning skin, trickling down your cheeks and the crack of your arse.
Suddenly aware of your muffled sounds I moved to the front of the bench and removed the gag, you are in tears and blubbering on about how you will pay more attention in future and I didn't doubt it for a minute but there was still one more implement that I wanted to use on your little punished slave body. I picked up the riding crop, the object that turned Me on the most, just the sound of it swishing through the air is enough to make My clit twitch.
Standing in front of you I tease you with it, resting the tip on your lips before making you kiss the entire length. Then positioning it just under your coccyx begin to beat you with it, working My way down to just below the crease of your arse making you thank Me out loud.
Finally feeling suitably convinced that you had learned your lesson I unstrap you and order you to get dressed and then clean the mess up that had started this punished slave predicament.
Text and share explicit pics with other kinky whores right now! They can't wait to fulfil your every filthy desire!