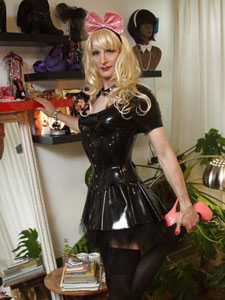 My flatmate Steve was always a bid of an odd ball but he paid his rent on time and I didn't think much of it. I'd occasionally see women's panties on his floor but I just thought Steve was a fuck machine. It had been a long day and I cut out of work early to catch the footie game but when I opened the door there was Steve in a pink nightie with his cock tucked between his legs.
I admit that I fucking flipped out and Steve was pretty shaken up as well. He told me he'd been a secret crossdresser for years and loved the way the fabric felt on his skin. The girlie underwear hugged his cock and he felt so sexy. I've always been the liberal sort and I didn't want to lose a good flat mate so I told him to model some of his outfits for me. I wanted to be supportive of my sissy slut friend and I have to admit seeing him stirred my cock a little.
He first put on a blond wig with a black dress and pranced around the room like a little whore. He'd bend over and I could see his cock and balls bulging through the thin fabric of the underwear. Oohhh FUCK! He did look HOT! My cock was getting hard watching him. I'd never been attracted to men before but seeing him those golden locks and big dick made me SO FUCKING horny…
The next outfit was a plaid skirt with fishnets and it made me think of all those Catholic school girls I had fantasised about. I think Steve saw my cock hard in my pants and really put on a show for me. Hhhhmmmm – I wanted him to stroke my cock so bad but I was embarrassed. When he left to change, I quickly unzipped my pants and let my cock breathe.
I wasn't expecting him back to fast clad in a white tutu and he smiled when he saw my cock. Instead of shying away, he got on his knees I started sucking my dick. Aaaahhhh this was fucking amazing aaaahhhh…his mouth was so warm on my cock. He took down my entire shaft and began licking my balls. Oooohhhh, aaaaahhh FUCK, FUCK…I was in heaven. He even licked the little drip of cum on my tip.
He wasn't done with his fashion show yet and when he came back he had a gray dress and black underwear that showed his cock and balls. His rod was as hard as mine. He lay on the bed with his legs high and I could see his arse hole was ready for me. I placed the head of my cock against it and slowly began to enter him. Aaahhhh, oooohhh…never have I felt such a tight hole. He bit his lip from the pain but soon I was balls deep in his arse. I started fucking him nice and hard as his balls and dick slapped up against me. 'like that do you, want more do you, want it hard! You dirty sissy slut, you dirty slut, you dirty DIRTY fucking whore…!!'
He stroked his cock as I fucked him over and over, harder and harder, and soon he was cumming on his chest and some even reached his face. Watching him lick his own cum brought me over the edge – hhhhhmmm, aaaahhhhh, hhhhmmm and I came fast and furious in his arse. When I pulled out, my cum dripped out onto the bed.
My little sissy slut and I have had many fashion shows since then and they all ended the same way.
Chat with sissy trainers that just can't wait to make you feel like a dirty, used whore!