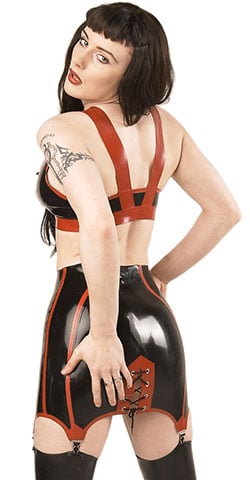 Sissy phone sex UK allows me to humiliate my pathetic subs over the phone. And when I'm not doing that I'm dressing up my pathetic playthings in pink frills ready to go partying. This is how our little adventure played out…
I was on my way to collect my sub, a pathetic excuse for a man. I'd been invited to a BBQ and he had no idea that's where we were going today, or what I had planned.
It was a hot day, but I still wore a leather bra, short, tight, leather skirt and 5 inch heels.
It was important to look and dress the part, as my sub was about to find out. He climbed into the passenger side and greeted me with a shy 'Afternoon Mistress'.
I barely acknowledged him as I handed him a rucksack. 'Go back into the house and put those on. Every item. Be quick, we have a party to attend.'
He quickly peeked into the bag and looked slightly panicked.
'Are you going to be a good little sissy and do as you're fucking told?' I said 'or shall I go to the party alone?'
'I'll be right back Mistress' he mumbled as he made his way from the car.
Five minutes later he was tottering back down the path, a little unstable in the 4 inch heels I'd provided for him. His cheeks flushed scarlet as he tugged self-consciously at the short, tight, hot pink dress. I laughed heartily as he climbed into the car.
'Well don't you look pretty as a picture sissy boy!' I laughed so hard tears ran down my face.
We drove in silence. He was squirming and wriggling the whole time. We arrived at the relatively posh house at the same time as a few others. I could feel their stares on us, hear their hushed whispers. I smiled knowing he could feel and hear them too, his shame magnifying by the second.
We made our way through the house to the garden. I recognised a few faces from the scene, those were the ones who paid no mind to my pathetic little sissy friend who was following me around like a little lost lamb.
Are you an obedient sub who will do whatever the Mistress requests? Or have you been naughty and need to confess your sins and be punished? Then you should try sissy phone sex UK, the Mistress is waiting.
I took a seat on one of the lawn chairs and nodded for my sub to take a seat on the floor beside me.
A few people were swimming in the large, sunken pool. 'Take the heels off ' I instructed. He did as he was told, his eyes lowered.
'Now the dress' I said. His eyes flew to mine, pleading. 'Take the dress off sub, don't make me say it again.'
He went to his knees and slowly peeled the figure hugging dress from his body, leaving him clad only in the pale pink, padded, frilly bikini beneath.
'Good' I commended 'Now, go for a dip'
I turned away, sipping my drink, but I was aware of his movements. It took him awhile to make his move. Eventually he stood and shyly strolled towards the pool. A chorus of sniggers rang out across the lawn, a large portion of the guests, pointed and laughed at him.
How humiliating I thought as I laughed with them. What a pathetic excuse for a man. Parading around in front of all these strangers in a girly, pink, frilly bikini.
When he returned to me, water trickling down his body, his eyes lowered, cheeks still flushed, I handed him a towel and told him to follow me, I had one more task for the simpering little fool.
I led him into the house, up the stairs, to one of the back bedrooms with an en-suite. I went into the small bathroom, sat on the toilet and relieved myself, making sure to dribble on the seat.
'Sub' I called as I stood, my panties still around my knees 'I appear to have made a mess, clean it.'
I pointed at the piss. He dropped to his knees obediently, bent his head and licked the piss splattered seat, thoroughly, not missing a drop.
'Mmmmmm, Now me' I ordered, threading my fingers through his hair, bringing his mouth to my cunt. 'That's it' I murmured as he lapped at my wet slit 'Clean me, then make me cum. Don't stop until I say.'
I ground my wet cunt against his mouth, fucking his face, fast and hard.
A fast, hard, dirty fuck is what I wanted. I knew his cock wasn't capable of it so his pretty, slutty little mouth would have to do.
'Ahhhh yes, that's it, make me cum you useless cunt' Mmmmmmm fuck yes, Oh God… I came intensely, my clit throbbing against his tongue, my creamy nectar entering his mouth. I pushed his head away from me when I'd finished and pulled my panties back up.
'You can have another dip in the pool, then we're leaving. I want to watch you wank that pathetic little cock in the car on the way home. I need a good laugh.'
Want to chat to an expert in the treatment and subjugation of sissy males? Then you should try sissy phone sex UK and chat to Mistress Natasha.