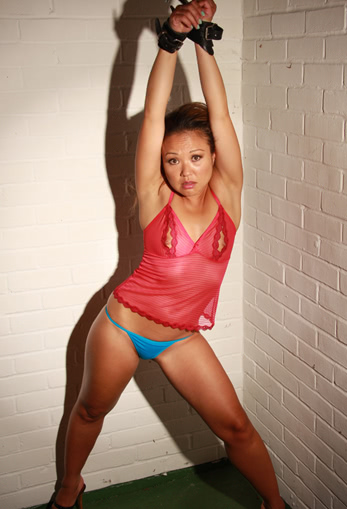 Text obedient Opal for submissive sms chat. Exchange hardcore text messages and pictures. Or you can call her too for 121 live sub/domme phone sex. Read her kinky story about her day in the dungeon…
"I was collared, cuffed, blindfolded and hooked to the ceiling of my Master's dungeon by the metal ring of my collar.  The leather cuffs were on a short chain, also attached to the collar.  I was immobile and without sight.
I heard his footsteps as he re entered the room and my excitement grew.  I don't know how long I'd been like this, it felt like hours.  'Good girl' he said, his mouth right beside my ear he tapped my thigh and said 'open'.  I widened my stance and he cupped my wet pussy.
Juices coated my bare lips and thighs, I groaned and tried to grind myself against his hand.  I should have known better.  He spanked my cunt hard and I cried out.  'Shhhhh' he said 'you're a noisy one aren't you, pretty Opal.'
Gently he pressed my jaw opened and placed a ball gag in my mouth.  My breathing quickened, my cunt creamed even more.  I couldn't see, couldn't scream, couldn't move, I could only take what my Master chose to give me.
He spanked my cunt again, then my tits, my arse, my face.  Short, sharp smacks in quick succession, I never knew where they were going to land.  By the time he'd finished, I was a quivering, drooling mess.
No sight meant no warning, so I didn't have a chance to even steel myself a little before both of my nipples were clamped, hard, at the same time.  Fuck that hurt!!! I screamed against the rubber ball, flinched and struggled as much as my binds would allow, but it was futile.  
Master spanked and pinched my clit.  Oh god, the pain merged into pleasure, coursing through my entire body.  I was going to cum, I NEEDED to cum.  'Do not cum Opal' he said and I swore profusely at him in my mind 'You do not cum until I say'.
I controlled my mind.  My body tremored and quaked with need, balancing on the very edge of an exquisite orgasm, but it was not mine.  My pleasure, my pain belonged to my Master.  
He released my clit from his pinching grip and thrust three fingers deep inside my cunt, followed by two fingers from his other hand buried in my arse.  Ahhhh fuck, I don't know how I could take anymore without exploding.
So full, so tight, so good.  If I wasn't gagged I'd be begging, pleading with him to let me cum.  I whimpered and shook, tears streamed down my face, but still he tormented me, fucking me with his long, thick fingers, in both holes.
I was exhausted, I couldn't fight it anymore…..just when I was on the brink of defying him, he removed his fingers and the clamps.  I cried out as the blood rushed back to my sensitive nipples.  Master sucked strongly on each of them, which was both soothing and painful!
I was unhooked and almost collapsed against him.  I was placed on my knees, the ball gag was removed and my face was filled with cock.  'Make your Master cum slut, work for it!  My sexy, dirty little whore.'
Mmmmmm his filthy words and the taste of his cock rejuvenated me, I set about my task with renewed vigour, hungry for the taste of my Master's cum.  I sucked, licked and slurped over every inch of him until he fisted his hands in my hair and pumped load after load of hot cum down my throat.  
I didn't stop until he was completely spent.  I swallowed every drop, making sure to lick him clean and to keep lapping at him until his cock had softened fully and he tapped my shoulder to signal I was finished.
He stood me with my back against the wall, buried his fingers in my cunt once more and pinched my clit hard.  'Now, cum for me Opal' he ordered.  The words had barely left his mouth and I was erupting.  My whole body tensed and released as I gave gush after gush of my sweet nectar.
As he released my clit another wave of orgasms swept over me, I writhed against the wall, the intensity too much!  Master held me there, forcing me through the sensitivity.  I wept as the last wave ebbed away.
I composed  myself, wiped my tears and thanked my Master. "
The most intelligent and unique submissive sms chat and live phone sex lines. Opal is a submissive sex slave and she wants to tell you even more of her secret stories. Need sex with a difference? Love to dominate? Are you the Master? Opal needs to be punished, contact her now!